Associates 1968
"Notre Dame Associates are persons who live the Gospel in the spirit of St. Julie, integrating that spirit into their different ways of life.  Their manner of association is determined in each unit with the approval of the General Government." Directive 52 
Associates are men and women who identify with the spirit, life and mission of Notre Dame and wish to associate themselves with the Sisters of Notre Dame, their mission and spirituality.  This relationship expands the gifts of our congregation and enriches the faith community.  
Associates are a diverse group of men and women including alumni, teachers, former Sisters, co-workers, and friends.  Each person brings his or her own spiritual, professional and life experiences to the associate relationship.  In the United States, acceptance as an associate comes after a period of preparation and is based on a mutual discernment process.  Associates make a one-year commitment, renewed annually, to live in the spirit of the Gospel and St. Julie Billiart. 
Other groups of persons, without being associates, feel equally linked to the Sisters of Notre Dame.  We have the "amis de sainte Julie" in France, groups of "Julie No Kai" in Japan, and others persons associated with Notre Dame in Africa, Britain and Latin America.  The first program for ND Associates began in Britain in 1968.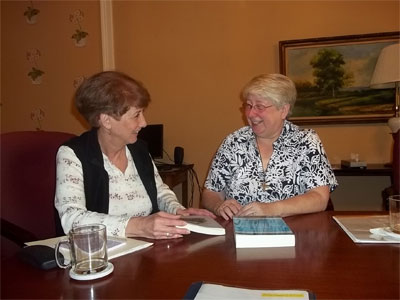 "This is my pastoral mission and I am rewarded by seeing the goodness of God each day." Susan Miller
"I have always been interested in St. Julie's life in her joy and belief in God's goodness. The Sisters helped me to delve deeper and to see how the gifts that God has given me are such a natural fit with St. Julie's spirituality." Mary Pyper